When we "give-up" things for Lent, we can use the money we would have normally used and give it to the poor.
Lent is a beautiful time in the Church's calendar and for many centuries the Christian faithful have used it to "give-up" certain things. Giving-up sweets or chocolate is one of the most common sacrifices people practice during Lent.
A unique twist to this traditional custom is to turn those sacrifices into acts of almsgiving. For example, maybe each week you allot some portion of your grocery budget to sweets or desserts. During Lent you might give up those sweets and, in turn, donate the money you saved by not purchasing sweets.
St. Claude de la Colombiere, SJ, is known as the Apostle of the Sacred Heart; he explains this simple principle in his book The Sufferings of Our Lord Jesus Christ.
"[Almsgiving] This is one of the obligations of Lent; one of the intentions with which the Church requires us to fast. Penitence must not economize to gratify avarice; what we retrench from the expenses of our table, our dress, and our amusements ought to be given to the poor. These are the alms that delight heaven and with which Jesus Christ adorns Himself…Let us resolve to love the poor, to save something for them from our own enjoyments."
We don't have to give-up sweets to practice this type of almsgiving. It could be going to the latest movie in the theater, or pausing your Amazon Prime membership during Lent. Whatever it is you give up, consider how doing so can increase your generosity to the poor, making your sacrifice a sweet-smelling oblation to the Lord.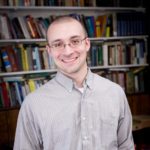 Philip Kosloski is the Digital Content Manager for the Pope's Worldwide Prayer Network (USA) and is also a spirituality writer for Aleteia.org and has been featured on such places as The Huffington Post, Crisis Magazine, The Catholic Herald, Catholic Exchange, National Catholic Register and EWTN Radio.