Pope's Worldwide Prayer Network
1501 S. Layton Blvd
Milwaukee, WI 53215-1924
Phone: 414.486.1152
E-mail addresses:
For prayer requests, general information, or questions: [email protected]
---
Staff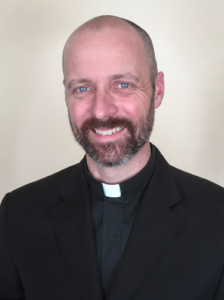 Rev. Joseph Laramie, SJ
National Director
E-Mail: [email protected]
Fr. Joe became the national director in 2020. He lives in Milwaukee. He travels widely to offer talks and retreats for this ministry.
He is also a National Eucharistic Preacher for the Eucharistic Revival. He was ordained in 2011.
He previously taught at all-boys high schools in Kansas City and Colorado and served as a college campus minister in St Louis. He also served at Mayan villages in Belize.
He is featured on the Hallow app, EWTN, Busted Halo, and America magazine.
He is the author of two books:
Love Him Ever More: a 9-Day Personal Retreat with the Sacred Heart of Jesus, based on the Spiritual Exercises of St Ignatius Loyola [Ave Maria Press, Notre Dame, 2022] and, Abide in the Heart of Christ: a 10-Day Personal Retreat with St Ignatius Loyola, based on the Spiritual Exercises [ 2019]
More info: JoeLaramieSJ.com @JoeLaramieSJ
---
Our Prayers for You
Because we are millions of people around the world who pray with Pope Francis for his monthly intentions, we have been called the world's largest prayer group.  In homes, schools, hospitals, nursing homes, and prisons, we are united in prayer.  And because we pray for one another in the daily offering, there are millions of people praying for you and your intentions every day.
We believe in the power of prayer and so should you. As a small staff here at the USA offices of the Pope's Worldwide Prayer Network, we pray daily for the Pope's monthly intention and for the prayer requests that you send our way. Each day our communications coordinator reads the prayer request emails and records them to be shared with everyone on staff. In addition to our daily prayer we have staff Mass monthly that includes your prayer intentions in the petitions.
Please don't hesitate to reach out with prayer requests and to share with us when prayers are answers or graces are received. Stay close to the Sacred Heart of Jesus, God bless you!
To leave a prayer request, e-mail us here: [email protected]