About Fr. Blazek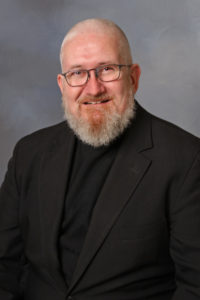 Father William Blazek, SJ, MD, a Jesuit Priest, assumed leadership as National Director for the United States of the Pope's Worldwide Prayer Network and the Eucharistic Youth Movement in July 2017. He also serves as Regional Coordinator for Canada and the United States of both organizations.
Father Blazek entered the Society of Jesus in 2001 and professed perpetual vows in 2003. He was ordained a Roman Catholic Priest in 2012. His most recent assignment was as Retreat Director at the Manresa Jesuit House of Retreats in Convent, LA. (2015-17) He has given numerous retreats based on the Spiritual Exercises of Saint Ignatius of Loyola to priests, deacons, women religious, seminarians, and lay groups. Father has given Ignatian retreats to St. Teresa of Calcutta's Missionaries of Charity in communities across South America and the Caribbean.
Father served previously as the Director of the Integritas Institute for Ethics at the Saint John Paul II Newman Center at the University of Illinois Chicago (2013-2015). The Institute is a resource for university faculty, students and staff and in the local Church of Chicago. Also, he served as Parochial Vicar of Gesu Parish in University Heights, OH (2012-2013).
In addition to his philosophical and theological training, Father Blazek is a licensed physician and is board certified in internal medicine. He taught medicine and ethics as Assistant Professor of Medicine at Georgetown University School of Medicine in Washington, DC (2006-09). He served as a medical ethicist on the Defense Health Board (2008-09). This Federal Advisory Committee provides scientific advice and recommendations relating to health care delivery, research and policy to the US Secretary of Defense for all members of the Armed Forces and DOD beneficiaries.
Father has been a frequent guest speaker on bioethics on the national radio broadcast "Morning Air," and a recurring contributor to the Newsweek And Washington Post online conversation "On Faith."
He is a US Army Veteran (1986-91) of Operations Desert Storm and Desert Shield in Saudi Arabia and Iraq (1990-91) where he served as an Infantry Officer in the 101st Airborne Division.
Currently, he resides with the O'Brien Hall Jesuit Community at Marquette University, in Milwaukee, WI.
E-Mail: director@popesprayerusa.net.
---
Upcoming Speaking Events
February 16-18, 2018
Following Our Holy Desires
Mother of the Redeemer Retreat Center
8220 W. State Rd. 48
Bloomington, In  47404
One central tenet of Ignatian spirituality is that God speaks to us in the deepest desires of our heart. Recognizing and following these holy desires can help us to configure our will to that of the Father and help us to find a place of "genuine happiness and spiritual joy." Call 812-825-4642 x0 to register.