Generally speaking, it is easy to be thankful to God for positive blessings that we receive. Whether we love our job, our comfortable house, or a close-knit family, we are naturally grateful for the many good things in life.
However, are we thankful to God for everything, even those things that cause suffering?
This can be a more difficult disposition to have, but it is a necessary one for the Christian. We are challenged to be a people of hope, seeing God's handiwork in all circumstances, even the difficult ones. God may permit us to endure a hardship or trial, but he does so as a loving Father, keeping watch over us and encouraging us to overcome it. For example, losing out on a promotion at work might be an experience of humility, and may lead to an open door in another field.
We may not be able to see the goodness of a difficult event in the present moment, but at the end of our lives, when all will be revealed, we will see how it fit into God's mysterious plan.
St. Paul talks about this disposition in his letter to the Thessalonians.
"Rejoice always. Pray without ceasing. In all circumstances give thanks, for this is the will of God for you in Christ Jesus." (1 Thessalonians 5:17-18)
This short Bible verse can help orient our spiritual life in the right way. Keep it close at hand for those times when we are not naturally thankful to God. It is a reminder that God's will is in every event, even when we don't understand it or when it is difficult to endure.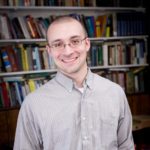 Philip Kosloski is the Digital Content Manager for the Pope's Worldwide Prayer Network (USA) and is also a spirituality writer for Aleteia.org and has been featured on such places as The Huffington Post, Crisis Magazine, The Catholic Herald, Catholic Exchange, National Catholic Register and EWTN Radio.