Advent is one of the most underrated seasons in the Church's liturgical year. It is meant to be a time of quiet preparation for Christmas, but in our secular world, it is a season of consumerism. We often get distracted by the many advertisements we see or the Christmas movies we watch and forget entirely the "reason for the season."
One way to recapture the true meaning of Christmas is to listen to God in solitude. In order to hear God's voice within our soul, we must reduce all exterior distractions. There is a reason why it is typically much easier to pray in an empty church building than in the middle of Times Square. Our minds can easily be led astray by both "verbal" noise as well as "visual" noise. As it is revealed in the life of Elijah, God is not easily heard in the violent storm, fire or earthquake, but in the "stillness."
We should try to remember this simple fact and take advantage of any opportunity we are given to spend time alone, away from the world. Time of solitude can be seen as a gift from God and an opportunity to deepen our relationship with him. For example, praying the Joyful mysteries of the rosary in your home or going to one hour of Eucharistic Adoration at your parish.
Silence can sometimes be difficult to endure, but when we recognize it as an opportunity to listen to God, his presence can wash over us and grant us his peace. Then when Christmas Day arrives, we will be spiritually prepared to welcome the Christ Child into our hearts.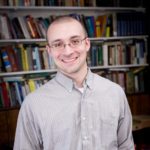 Philip Kosloski is the Digital Content Manager for the Pope's Worldwide Prayer Network (USA) and is also a spirituality writer for Aleteia.org and has been featured on such places as The Huffington Post, Crisis Magazine, The Catholic Herald, Catholic Exchange, National Catholic Register and EWTN Radio.