We pray for religious sisters and consecrated women; thanking them for their mission and their courage; may they continue to find new responses to the challenges of our times.
"Therefore the Lord himself will give you a sign. Behold, a virgin shall conceive and bear a son, and shall call his name Immanuel." (Is 7:14). Throughout salvation history, the Lord has delighted in giving us living signs, most remarkable among whom stands the Virgin Mary, Jesus' own mother. I can only imagine what it must have felt like for her in those tender moments when she first caressed the Son of God in her own arms, drinking in the fragrance of His presence.
In their own way, religious sisters and consecrated women continue to carry the sweet fragrance of Christ into the world. Walking in the footsteps of Mary, they are called to reveal the love and mercy of God to a broken world, assuring every man, woman and child that this life is not all there is, a great Kingdom awaits us!
Yet, our time on earth must be well spent. Consecrated women stand faithfully with Christ as Mary did, receiving His love that enables them to bear fruit in the Church and world. They take their stand among the poor, children, refugees, college students, the sick, the elderly—the 'greatest' and the 'least'. Their mission is not merely to satisfy physical or social needs, but ultimately to show by their lives that love is real, and love has a name: Jesus.
The very same fragrance that drew Mary into deep union with Jesus draws consecrated women into loving service. Just as Jesus dwelt in Mary, He dwells in every person. Out of their own deep union with Jesus, consecrated women are able to sense and savor His fragrance in every person they are called to love as they share the fruit of their own love for Christ.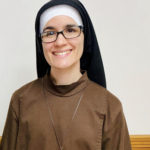 Sr. Alicia Torres is a member of the Franciscans of the Eucharist of Chicago. She studied theology at Loyola University Chicago (BA) and Mundelein Seminary (MDiv), and received her MA in Teaching from Dominican University in River Forest. She currently serves at the Mission of Our Lady of the Angels on Chicago's West Side, and serves as a religion teacher in an inner city Catholic School.