Throughout history many religious and consecrated women have saved the Church at major crises, such as St. Hildegard of Bingen.
In February Pope Francis highlights the great work of religious and consecrated women in the life of the Church. He prays that their work is appreciated and valued, recognizing their ongoing contribution to the Church's needs.
One example of a courageous woman, who did all she could for the Church, is St. Hildegard of Bingen. St. Hildegard was not afraid to speak her mind or share her revelations from God. During the 12th century she frequently traveled throughout Europe, challenging priests, bishops and even the pope himself.
She was not satisfied with mediocrity, and saw that the only way to reform the Church was through conversion, penance, and holiness of life.
Pope Benedict XVI pointed to the power of her example during one of his General Audiences.
"And when the Emperor Frederic Barbarossa caused a schism in the Church by supporting at least three anti-popes against Alexander III, the legitimate Pope, Hildegard did not hesitate, inspired by her visions, to remind him that even he, the Emperor, was subject to God's judgement. With fearlessness, a feature of every prophet, she wrote to the Emperor these words as spoken by God: 'You will be sorry for this wicked conduct of the godless who despise me! Listen, O King, if you wish to live! Otherwise my sword will pierce you!'"
She advocated for true reform of the Church, speaking to priests and bishops, "reminding them that a true renewal of the ecclesial community is obtained with a sincere spirit of repentance and a demanding process of conversion, rather than with a change of structures."
Religious women have a valuable place in the Church and can even save the Church through their courageous example and words of wisdom.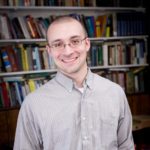 Philip Kosloski is the Digital Content Manager for the Pope's Worldwide Prayer Network (USA) and is also a spirituality writer for Aleteia.org and has been featured on such places as The Huffington Post, Crisis Magazine, The Catholic Herald, Catholic Exchange, National Catholic Register and EWTN Radio.