Lord our God, the Creator of all things visible and invisible, hear us!
You have given us the power, the freedom, and the responsibility to understand and act according to Your laws, both moral and scientific. In all that we learn and learn how to do, may we grow not in pride but humility; may our knowledge only increase our amazement at You and Your creation.
As our technology, especially medical technology, gives us new scope for temptations to indulge in the old sins – pride, greed, envy, and the rest – we know that we cannot resist these temptations by burying our heads, or our talents, in the ground. We can only do so with Your grace.
Give us prudence, temperance, and justice in the works of our hands. May all we do promote the dignity of all human life. And may You be with those who struggle to understand the social and moral implications of our knowledge, so that they may best teach us how to understand Your will.
Amen.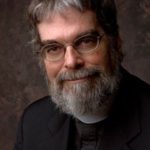 Brother Guy Consolmagno SJ, is the Director of the Vatican Observatory. A native of Detroit, Michigan, he studied planetary sciences at MIT and the University of Arizona. Along with more than 200 scientific publications, he is the author of several popular astronomy books.