Lord our God, you chose Mary to be the mother of your Son.
You chose her from the very beginning for this mission and in so doing preserved her from the stain of original sin.
We ask Mary to join us in our prayer.  By the power of the gospel message, may young people heed the call of Jesus to repent and turn away from sin.  Guide their steps so that they may always choose what is good and holy.
Open their ears and hearts to hear how you are calling them to serve You and their neighbor.  Embolden them with courage as they face difficulties in their life.  Deepen their faith and trust in your love and mercy.  Open their eyes to see the needs of their brothers and sisters and respond with help.
May they turn to the communion of saints, especially to the Mary, Queen of all Saints, and other young men and women who have walked the journey of life.  By their prayers and example may they one day merit the grace of eternal life.  Amen.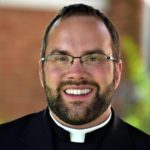 Fr. Edward Looney is a priest of the Diocese of Green Bay, a Marian theologian, host of the podcast How They Love Mary, and author of several books. He currently serves as vice-president of the Mariological Society of America.