Thanksgiving Day in the United States is a widely celebrated secular holiday that can take on a strong religious tone. It is a day when families come together to express their gratitude for each other, but it can also be a day to give thanks to God.
In particular, going to Mass as a family is a perfect way to express that gratitude to God. This is because the Greek word Eucharist means "thanksgiving." The Mass has always been associated with a desire to give thanks to God for the many blessings that we have received.
This is why the first Catholics who came to the United States offered a Mass of thanksgiving, thanking God for preserving their life after a long voyage over the Atlantic Ocean.
While having a family dinner and watching the football game can be an enjoyable experience and help foster an attitude of thanksgiving, going to Mass can help complete the day's festivities.
As members of the Pope's Worldwide Prayer Network, we recognize the beauty of the Eucharist and frequently offer our day, "in union with the Holy Sacrifice of the Mass throughout the world." May we take that same spirit and apply it to Thanksgiving Day, ensuring that our celebrations are focused on a profound gratitude to God.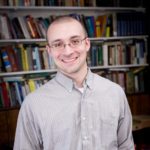 Philip Kosloski is the Digital Content Manager for the Pope's Worldwide Prayer Network (USA) and is also a spirituality writer for Aleteia.org and has been featured on such places as The Huffington Post, Crisis Magazine, The Catholic Herald, Catholic Exchange, National Catholic Register and EWTN Radio.